3rd Annual
Taste of Mission Hills
Discriminating Palates Unite.
Nineteen venues, from worldly to local, including long established and very new restaurants in Mission Hills, will be featured at the "3rd Annual Taste of Mission Hills" Tuesday, October 14th from 5 p.m. to 9 p.m. This event is hosted by the Mission Hills Business Improvement District.
Experience an evening of delectable "tastes" in one of San Diego's premier dining areas – Mission Hills. Preparations representing recipes from around the globe will captivate your taste buds.
FREE TROLLEY
Free Old Town Trolley shuttles will transport Tasters to locations along India Street, West Washington, Goldfinch and Ft. Stockton with a continuous loop running until 9:30pm.
Participating venues include:

Brooklyn Girl
Café Bleu
Cake – Your Local Bakery
El Indio
The Front Porch
Gelato Vero Café
Harley Gray Kitchen and Bar
Lefty's Chicago Pizzeria
Maison en Provence
Meshuggah Shack
The Patio on Goldfinch
The Red Door
Rubicon Deli
Saffron
Shakespeare's Corner Shoppe
Shakespeare Pub and Grille
Starlite
Venissimo Cheese
The Wellington Steak and Martini Lounge.
"Taste" drink specials will be served too.
Mission Hills is located 6 minutes north of Downtown San Diego between Hillcrest and Old Town. Getting to the Taste of Mission Hills is easy: Exit Sassafras or Washington St. from the I-5 freeway. Exit West Washington from 163. On October 14, discover what all the talk is about!
TICKETS
Advance Tickets are $20 (CASH ONLY) and are available at One Mission Realty, 928 Ft. Stockton # 217, and at The Front Porch, 928 Ft. Stockton #101. Tickets may also be purchased online with credit card through BrownPaperTickets.com. Buy your tickets today!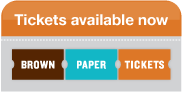 WILL CALL INFO
Tasters who purchase tickets online will need to bring proof of purchase to Will Call on the day of the event between 3-6PM. Will Call will be located at The Front Porch (928 Ft. Stockton Dr. Ste. 101) at their 'side porch.'
Purchasing in advance at one of the following locations will allow ticket holders to avoid the need of going to Will Call on the date of the event.